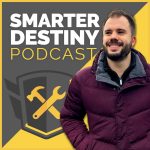 Steven Esketzis is an entrepreneur, digital marketer and sales funnel architect. He is the founder of multiple digital marketing companies, including the events company Digital Marketers Australia and the agency Media Property Collective. Obsessed with productivity, Steven is devoted to helping others grow their businesses using online marketing.
Bullet points
00:44 – Intro
02:45 – Phase one: launching the app
06:45 – Phase two: interviewing DJs
07:45 – Phase three: the platform
09:14 – The beginning of the evolution: learning digital marketing
10:55 – Pivoting to the next thing
12:15 – Starting a new SEO job
13:00 – Blogging about new software
14:00 – Becoming Head of Content Marketing
16:00 – Learning and growing skills
17:43 – Building a team
18:15 – Building sites
20:00 – Monetizing content websites
20:50 – The importance of link acquisition
22:25 – Great tools for SEO
23:00 – Outsourcing and automating the process
23:35 – The first events
28:25 – Event planning
32:54 – Two types of audiences
35:41 – The next thing: a new ecommerce business
37:40- Rapid fire question round
38:20 – What superhero would you be and why?
38:50 – What is one thing that people incorrectly assume about you?
39:58 – What is the most pointless subject taught at schools and what would you replace it with?
41:40 – The most common mistakes in teaching marketing
42:25 – What is one amazing act of kindness you either witnessed or done yourself?
43:13 – What unusual or underrated food or drink should more people try out?43:54 – What is one mistake in your life and what did you learn from it?
44:56 – What does the first 30 minutes of your day look like and when does it start?
46:10 – What do you do or where do you go to get inspired?
47:18 – Who do you idolize above everyone else and why?
48:13 – What book do you read or gift the most?
49:09 – What silly thing should people do more of?
50:00 – If you could change one world problem with one wish, what would it be?
50:26 – Would you rather always be 10 minutes late or always be 20 minutes early?
51:16 – Would you rather move to a new city or town every week or never be able to leave the city or town you were born in?
51:45 – What makes you happiest?