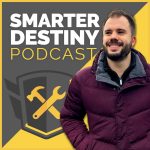 Dr. Travis Zigler is an optometrist turned entrepreneur, and a true rockstar when it comes to Amazon, charity and helping others. Travis is the owner of the online business Eye Love, and the creator of Amazon PPC Pros, an agency that coaches others to rapidly scale their businesses. In this episode he shares how he became an entrepreneur, his failures and what he learned from them. He and his wife are currently on a mission to help 1M dry eye sufferers naturally by the year 2030.
00:37 – Intro
03:40 – The first entrepreneurial journey
04:37 – Graduating optometry school and starting to work as an employee
05:08 – Starting a new business and a practice
06:45 – The big turning point: shifting to eastern medicine
11:45 – Who Eye Love cater to
14:44 – The roadblock: focusing on service vs. focusing on sales
19:17 – The biggest mistake when selling online
23:00 – The most common mistake when selling on Amazon
25:42 – The agency's name
29:00 – What works with Amazon video
30:51 – Focusing on ACoS
33:40 – Back to video ads
38:30 – Amazon FBA vs. Amazon FBM
42:25 – Rapid fire question round
43:07 – What superhero would you be and why?
44:35 – What is one thing that people incorrectly assume about you?
47:08 – What is the most pointless subject taught at schools and what would you replace it with?
49:33 – What is one random act of kindness you either witnessed or done yourself?
53:43 – What unusual or underrated food or drink should more people try out?
56:54 – What is one mistake in your life and what did you learn from it?
01:00:16 – What does the first 30 minutes of your day look like and when does it start?
01:03:10 – What do you do or where do you go to get inspired?
01:06:19 – Who do you idolize above everyone else and why?
01:10:41 – What book do you read or gift the most?
01:11:52 – What silly thing should people do more of?
01:14:00 – If you could change one world problem with one wish, what would it be?
01:17:30 – Would you rather always be 10 minutes late or always be 20 minutes early?
01:18:00 – Would you rather move to a new city or town every week or never be able to leave the city or town you were born in?
01:19:10 – What makes you happiest?
01:23:45 – Any asks or requests for the audience?