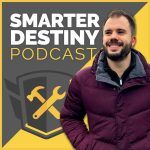 Kevin Pasco is a young entrepreneur, well-known for his ability for running a successful business without sacrificing his lifestyle as a world traveler. Kevin has already run an 8-figure business, which he exited recently. In addition he has shared that knowledge as a consultant, giving back and teaching all while traveling and living the life he wants. Kevin is truly passionate about entrepreneurship, ecommerce marketing, branding, design and education, and aims to help others use technology and business to make a positive impact.
Bullet points
00:40 – Intro
03:00 – How Kevin stumbled his way into being an entrepreneur
07:00 – Building the skills necessary
09:38 – The turning point to success
14:54 – Being mentored by Dan Lok
16:50 – The ups and downs of the entrepreneurial struggle
18:40 – Pivoting into a different project: the social media consulting agency
21:05 – The story behind Nested Naturals
25:14 – The first struggles and learning how to run a business
29:30 – Manufacturing
31:56 – The problems of scaling
35:25 – Why you shouldn't sell only on Amazon
36:55 – Diversifying to wholesale
41:20 – The best advice for starting on Amazon
44:12 – Exiting Nested Naturals and moving on to something else
50:30 – Taking time off
56:43 – Rapid fire question round
57:03 – What superhero would you be and why?
57:28 – What is one thing that people incorrectly assume about you?
58:05 – What is the most pointless subject taught at schools and what would you replace it with?
59:00 – What is one amazing act of kindness you either witnessed or done yourself?
59:43 – What unusual or underrated food or drink should more people try out?
01:00:45 – What is one mistake in your life and what did you learn from it?
01:01:20 – What does the first 30 minutes of your day look like and when does it start?
01:02:32 – What do you do or where do you go to get inspired?
01:03:20 – Who do you idolize above everyone else and why?
01:04:26 – What book do you read or gift the most?
01:05:09 – What silly thing should people do more of?
01:06:31 – If you could change one world problem with one wish, what would it be?
01:07:00 – Would you rather always be 10 minutes late or always be 20 minutes early?
01:07:20 – Would you rather move to a new city or town every week or never be able to leave the city or town you were born in?
01:09:07 – What makes you happiest?
01:10:11 – Any asks or requests for the audience?