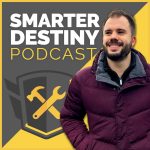 Philippe Roireau is the Head of Partnerships and Business Development at Gorgias, an amazing customer service Shopify app. He was previously Co-Founder at Dealeaz, an ecommerce-focused retailer that generated 20 million in revenue in its first 24 months. He also worked with both Google and Microsoft in marketing operations. Philippe is passionate about helping ecommerce merchants optimice scale both in their sales and back-end operations to boost profits.
Bullet points
00:40 – Intro
03:00 – The start as an entrepreneur
05:40 – The next step: working at Microsoft and going back to study
07:20 – Getting recruited by Google
07:40 – Quitting to launch Zpirit, his beverage business
08:58 – Pivoting to ecommerce: dropshipping and building brands
09:40 – The value of formal education
13:05 – Building a successful online business
14:31 – Learning from dropshipping
18:16 – Choosing a business model
20:25 – Taking a step back
3:10 The three-step process for making customer service next level
30:12 – Special opportunity
32:05 – Rapid fire question round
32:36 – What superhero would you be and why?
33:20 – What is one thing that people incorrectly assume about you?
34:27 – Negotiating tactics
36:24 – What is the most pointless subject taught at schools and what would you replace it with?
37:45 – What is one amazing act of kindness you either witnessed or done yourself?
41:51 – What unusual or underrated food or drink should more people try out?
43:04 – What is one mistake in your life and what did you learn from it?
44:39 – What does the first 30 minutes of your day look like and when does it start?
46:05 – What do you do or where do you go to get inspired?
48:20 – Who do you idolize above everyone else and why?
49:10 – What book do you read or gift the most?
53:02 – What silly thing should people do more of?
54:06 – If you could change one world problem with one wish, what would it be?
56:05 – Would you rather always be 10 minutes late or always be 20 minutes early?
56:45 – Would you rather move to a new city or town every week or never be able to leave the city or town you were born in?
57:21 – What makes you happiest?
58:20 – Any asks or requests for the audience?