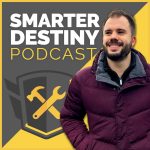 Anik Singal is a digital marketing expert, best-selling author and Founder and CEO of Lurn, Inc. the learning academy teaching entrepreneurs around the world the secret to financial freedom. Anik is also incredibly passionate about his philanthropy work. He has devoted his life to building schools, helping children and putting out love and support, all through his non-profit organization, For All Our Good.
Bullet points
00:43 – Intro
04:15 – The origin story
11:15 – Finding your passion
16:30 – The foundation for building a business
18:50 – Where to build your audience
20:30 – Serving your audience
21:45 – Building an email list on 2020
23:03 – Building a brand new email list
25:30 – Building a funnel that works
28:35 – Passion for learning
31:39 – Philanthropy work
37:20 – Learn more about Lurn, Inc.
38:10 – Double down on audience building
40:12 – Assisting high-level entrepreneurs
42:50 – Rapid fire question round
43:05 – What superhero would you be and why?
46:05 – What is one thing that people incorrectly assume about you?
47:50 – What is the most pointless subject taught at schools and what would you replace it with?
50:25 – What is one amazing act of kindness you either witnessed or done yourself?
55:30 – What unusual or underrated food or drink should more people try out?
56:25 – What is one mistake in your life and what did you learn from it?
57:50 – What does the first 30 minutes of your day look like and when does it start?
01:00:30 – What do you do or where do you go to get inspired?
01:01:25 – Who do you idolize above everyone else and why?
01:03:15 – What book do you read or gift the most?
01:04:45 – What silly thing should people do more of?
01:05:45 – If you could change one world problem with one wish, what would it be?
01:06:07 – Would you rather always be 10 minutes late or always be 20 minutes early?
01:07:10 – Would you rather move to a new city or town every week or never be able to leave the city or town you were born in?
01:08:00 – What makes you happiest?
01:09:45 – Any asks or requests for the audience?