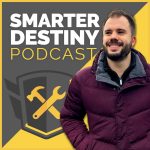 Felix Brooks-church is the Co-Founder and CEO of Sanku, a nonprofit organization that equips small-scale maize millers to improve their flour with key nutrients, at a very low cost. They are fighting the malnutrition problem in the world, and doing a pretty good job with Felix's machine, currently touching 2 M people everyday. Felix has recently done a TED talk in Tanzania, which will be available very soon.
Bullet Points
00:42 – Intro
03:00 – The start as an entrepreneur in Ibiza
04:30 – Volunteering in Cambodia
06:00 – Getting into something bigger
07:00 – Going to Nepal to work on the new project
08:50 – The importance of fortified foods
10:30 – Developing a new machine
15:25 – Going to East Africa to try the machine
18:20 – Looking to scale up
19:35 – The logistics behind travelling to 300 mills
22:50 – The next steps
25:10 – Choosing to work with Sanku
29:25 – Why fortification is big impact/low cost
34:00 – Leaning on technology to know the impact of the project
35:35 – Rapid fire question round
36:10 – What superhero would you be and why?
36:42 – What is one thing that people incorrectly assume about you?
37:30 – What is the most pointless subject taught at schools and what would you replace it with?
38:30 – What is one amazing act of kindness you either witnessed or done yourself?
39:20 – What unusual or underrated food or drink should more people try out?
40:23 – What is one mistake in your life and what did you learn from it?
40:55 – What does the first 30 minutes of your day look like and when does it start?
41:53 – What do you do or where do you go to get inspired?
42:55 – Who do you idolize above everyone else and why?
43:44 – What book do you read or gift the most?
44:25 – What silly thing should people do more of?
45:10 – If you could change one world problem with one wish, what would it be?
45:30 – Would you rather always be 10 minutes late or always be 20 minutes early?
45:45 – Would you rather move to a new city or town every week or never be able to leave the city or town you were born in?
46:10 – What makes you happiest?
46:50 – Any asks or requests for the audience?