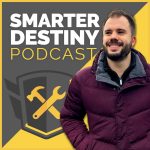 Maxwell Finn is a serial entrepreneur who has turned his passion for entrepreneurialism, Facebook marketing and ecommerce into a successful career as a digital marketer. He has trained thousands of entrepreneurs on how to be better at running traffic and businesses, and is one of the first Two Comma Club award winners from ClickFunnels. Maxwell has spoken from massive stages and is frequently invited to speak at some of the biggest events and masterminds in the world. He has been a digital marketer, entrepreneur and consultant for over 10 years and currently specializes in helping 7-9 figure companies scale with paid traffic.
Bullet points
00:53 – Intro
04:00 – Becoming an entrepreneur
08:00 – Learning about money
11:30 – Deciding what to do next
14:25 – The early businesses
17:40 – Loot!, the social marketing agency
21:28 – Raising funds
26:40 – Startup Drugz, the ecommerce store
32:15 – Developing new skills
36:20 – Why active listening is crucial
38:50 – The next venture
41:00 – Funding Quantum Media with Kevin Harrington
43:10 – The turning point
44:10 – The Two Comma Club award
47:45 -The current project: Unicorn Innovations
51:24 – The two models
58:03 – Building relationships
01:06:15 – Rapid fire question round
01:06:40 – What superhero would you be and why?
01:10:05 – What is one thing that people incorrectly assume about you?
01:11:00 – What is the most pointless subject taught at schools and what would you replace it with?
01:13:00 – What is one amazing act of kindness you either witnessed or done yourself?
01:14:05 – What unusual or underrated food or drink should more people try out?
01:15:08 – What is one mistake in your life and what did you learn from it?
01:18:10 – What does the first 30 minutes of your day look like and when does it start?
01:21:54 – What do you do or where do you go to get inspired?
01:28:10 – Who do you idolize above everyone else and why?
01:29:09 – What book do you read or gift the most?
01:31:51 – What silly thing should people do more of?
01:32:42 – If you could change one world problem with one wish, what would it be?
01:35:20 – Would you rather always be 10 minutes late or always be 20 minutes early?
01:36:00 – Would you rather move to a new city or town every week or never be able to leave the city or town you were born in?
01:37:32 – What makes you happiest?
01:39:16 – Any asks or requests for the audience?