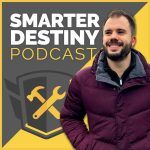 Tyler Sullivan is the Founder of BombTech Golf, an ecommerce store with over $17 million sold online since 2012. While building BombTech Tyler decided to focus on email marketing, since he was faced with the challenge of not having more cash to invest in ads. His efforts really panned out, and currently 40% of BombTech's revenue comes from email marketing. In addition to Bombtech, Tyler also runs eCom Growers, an email marketing agency for ecommerce brands.
Bullet points
00:55 – Intro
03:15 – The start as an entrepreneur
07:20 – Getting fired
09:16 – BombTech Golf
10:50 – The top three traffic sources for an online business
13:13 – Email marketing
16:40 – Growing an email list
19:43 – Marketing on Snapchat
23:10 – The typical golf demographic
26:09 – The challenges and opportunities
27:30 – Repeat orders
28:30 – Customer service
35:17 – High-level strategies
41:00 – Where to find out more
41:40 – Rapid fire question round
42:05 – What superhero would you be and why?
42:25 – What is one thing that people incorrectly assume about you?
43:45 – What is the most pointless subject taught at schools and what would you replace it with?
44:25 – What is one amazing act of kindness you either witnessed or done yourself?
45:40 – What unusual or underrated food or drink should more people try out?
46:35 – What is one mistake in your life and what did you learn from it?
49:55 – What does the first 30 minutes of your day look like and when does it start?
50:26 – What do you do or where do you go to get inspired?
52:22 – Who do you idolize above everyone else and why?
55:10 – What book do you read or gift the most?
55:45 – What silly thing should people do more of?
56:47 – If you could change one world problem with one wish, what would it be?
59:05 – Would you rather always be 10 minutes late or always be 20 minutes early?
01:00:50 – Would you rather move to a new city or town every week or never be able to leave the city or town you were born in?
01:01:42 – What makes you happiest?
01:02:50 – Any asks or requests for the audience?