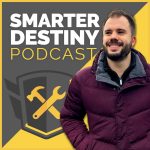 Vidya Ravi is a digital marketing specialist, funner builder and Facebook Ads expert. Over the past years, Vidya has worked in multiple successful online business launches, and amongst her current clients there are two comma club winners, coaches and well-known brands. Her speciality is helping ecommerce brands who want converting websites, sales funnels and lead building strategies.
Bullet points
00:55 – Intro
03:30 – The start of the entrepreneurial journey
09:00 – Looking for a new job
10:16 – Getting burnout
11:05 – What is dal?
13:35 – Transforming the situation
16:35 – What's working in digital marketing in 2020
22:03 – Relationship marketing
26:20 – One of the biggest mistakes Facebook advertisers are making
28:30 – How to avoid guesswork
33:09 – What works in creative in 2020
35:38 – Leveraging retargeting options
37:24 – Where to learn more
38:00 – Rapid fire question round
38:20 – What superhero would you be and why?
38:43 – What is one thing that people incorrectly assume about you?
39:20 – What is the most pointless subject taught at schools and what would you replace it with?
40:15 – What is one amazing act of kindness you either witnessed or done yourself?
43:50 – What unusual or underrated food or drink should more people try out?
44:35 – What is one mistake in your life and what did you learn from it?
48:35 – What does the first 30 minutes of your day look like and when does it start?
50:11 – What do you do or where do you go to get inspired?
51:00 – Who do you idolize above everyone else and why?
52:00- What book do you read or gift the most?
53:30 – What silly thing should people do more of?
54:40 – If you could change one world problem with one wish, what would it be?
56:14 – Would you rather always be 10 minutes late or always be 20 minutes early?
56:40 – Would you rather move to a new city or town every week or never be able to leave the city or town you were born in?
57:38 golpe
57:40- What makes you happiest?
59:05 – Any asks or requests for the audience?