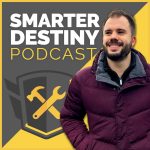 Paul Franzreb is a German entrepreneur and the CEO at Paul Valentine, the online jewelry and accessory business he co-founded with his sister. The company grew incredible fast in just its first year, thanks to its amazing digital marketing strategy. Paul is also an international speaker and has been invited numerous times by Facebook themselves to teach their employees and other marketers in the crowd how he does it. Right now Paul's company has a 60-people team, and they are still scaling extremely fast.
Bullet points
00:40 – Intro
02:35 – The start as an entrepreneur
03:40 – The first business: Paul Valentine
04:25 – Starting in ecommerce
06:05 – The early mistakes
08:30 – Find the right manufacturer
11:08 – Having a complementary partner
13:37 – Scaling up fast
15:45 – The power of influencer marketing
17:46 – Targeting different countries
19:20 – How to scale fast
23:00 – Building the product collection
24:25 – The importance of packaging
26:46 – The logistics of international shipping
28:30 – The challenges of hitting the 8-figures revenue level
30:00 – Having multiple traffic sources
35:02 – Figuring out what influencers to target
36:30 – Speaking at Facebook events
38:05 – Find the right people
40:30 – Where to learn more
41:35 – Rapid fire question round
41:21 – What superhero would you be and why?
41:30 – What is one thing that people incorrectly assume about you?
43:00 – What is the most pointless subject taught at schools and what would you replace it with?
43:55 – What is one amazing act of kindness you either witnessed or done yourself?
45:21 – What unusual or underrated food or drink should more people try out?
47:55 – What is one mistake in your life and what did you learn from it?
48:48 – What does the first 30 minutes of your day look like and when does it start?
50:57 – What do you do or where do you go to get inspired?
51:17 – Who do you idolize above everyone else and why?
52:00 – What book do you read or gift the most?
52:32 – What silly thing should people do more of?
53:03 – If you could change one world problem with one wish, what would it be?
53:53 – Would you rather always be 10 minutes late or always be 20 minutes early?
54:46 – Would you rather move to a new city or town every week or never be able to leave the city or town you were born in?
56:02 – What makes you happiest?
57:00 – Any asks or requests for the audience?