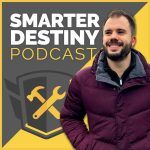 Chris Belote is a digital marketer and the founder of www.innovativemarketing.net , which specialises in helping home service companies get new customers with digital marketing. Some of his most notable achievements include taking businesses from 600 thousand dollars a year to 2 million a year. Chris turns traffic into dollars, leveraging the power of Google for massive growth, and you can find out all his best kept secrets in today's episode of Smarter Destiny.
Bullet points
00:45 – Intro
02:30 – The start as an entrepreneur
04:45 – Founding InnovativeMarketing.net
05:35 – The difference between SEO and local SEO
07:00 – How the process works
10:15 – The importance of cold tracking
12:45 – Recommended software
13:38 – How to better position brands in the local market
15:35 – The three areas to focus on: traffic, conversions and economics
16:17 – Using a different address to improve local SEO
20:41 – Three examples
21:50 – First example: a personal trainer
26:00 – Second example: a business coach
28:40 – Third example: a business in the beauty industry
33:00 – Where to find out more
34:10 – Another great free tool
35:14 – Rapid fire question round
35:30 – What superhero would you be and why?
36:20 – What is one thing that people incorrectly assume about you?
38:00 – What is the most pointless subject taught at schools and what would you replace it with?
39:38 – What is one amazing act of kindness you either witnessed or done yourself?
41:08 – What unusual or underrated food or drink should more people try out?
45:18 – What is one mistake in your life and what did you learn from it?
47:23 – What does the first 30 minutes of your day look like and when does it start?
49:06 – What do you do or where do you go to get inspired?
50:13 – Who do you idolize above everyone else and why?
51:35 – What book do you read or gift the most?
53:54 – What silly thing should people do more of?
55:12 – If you could change one world problem with one wish, what would it be?
57:18 – Would you rather always be 10 minutes late or always be 20 minutes early?
58:15 – Would you rather move to a new city or town every week or never be able to leave the city or town you were born in?
59:13 – What makes you happiest?
01:00:20 – Any asks or requests for the audience?