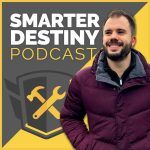 Ryan Carter is a nutritionist, and the founder and CEO behind Live Vitae, an online health care nutrition and biohacking brand. Ryan helps his clients achieve more and unlock a better life through functional medicine and biohacking. Today he shares his journey, from being severely ill and underweight to achieving optimal health, and reveals the most common mistakes when it comes to optimizing your health, as well as how to fix them.
Bullet points
00:57 – Intro
03:05 – The starting point
08:45 – Discovering (and solving) problems
12:30 – Symptoms of imbalance
15:30 – How to start tracking your symptoms
17:40 – Becoming a nutritional therapist
21:10 – Doing breathwork
23:30 – Getting traction on Instagram
25:43 – The best changes you can make right now
28:20 – Where to learn more about biohacking
31:20 – Nootropics
32:09 – Where to learn more about Ryan Carter
33:30 – Rapid fire question round
33:50 – What superhero would you be and why?
34:17 – What is one thing that people incorrectly assume about you?
34:50 – Improving your health
36:40- The benefits of getting good light
45:50 – What is the most pointless subject taught at schools and what would you replace it with?
47:40 – What is one amazing act of kindness you either witnessed or done yourself?
48:16 – What unusual or underrated food or drink should more people try out?
50:11 – What is one mistake in your life and what did you learn from it?
50:33 – What does the first 30 minutes of your day look like and when does it start?
53:18 – What do you do or where do you go to get inspired?
53:35 – Who do you idolize above everyone else and why?
54:18 – What book do you read or gift the most?
57:13 – What silly thing should people do more of?
58:30 – If you could change one world problem with one wish, what would it be?
01:00:07 – Would you rather always be 10 minutes late or always be 20 minutes early?
01:00:24 – Would you rather move to a new city or town every week or never be able to leave the city or town you were born in?
01:01:30 – What makes you happiest?
01:02:05 – Any asks or requests for the audience?