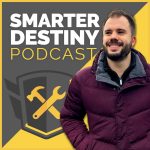 Daxy Perez is a marketing expert and a legend when it comes to making a successful podcast. He is the podcaster and founder of Podcast Success Secrets and the cofounder of Legacy Podcasting. Daxy is behind the success of many 6 to 9 figures entrepreneur podcasts, and he has generated 10s of millions of downloads across the shows he's helping, many of which have reached the top levels in the charts. Today we will learn his best tips on how to make the awesomely successful podcast that you want.
Bullet points
00:46 – Intro
03:35 – Becoming an entrepreneur
05:50 – Taking the first steps
10:45 – Starting Legacy Podcasting
12:20 – Learning to adapt to different clients
14:28 – Getting more downloads
17:55 – Increasing the ranking
20:30 – Analyzing Smarter Destiny Podcast
25:15 – Podcasts as a way of communicating
28:48 – How to remind listeners to subscribe
31:10 – What is working in 2020 for growing a show
34:45 – What should a podcast website contain?
35:48 – Making it shareable
37:22 – Getting a podcast running
42:55 – The importance of reviews
45:45 – Where to find out more
46:19 – Rapid fire question round
46:36 – What superhero would you be and why?
47:40 – What is one thing that people incorrectly assume about you?
49:20 – What is the most pointless subject taught at schools and what would you replace it with?
50:19 – What is one amazing act of kindness you either witnessed or done yourself?
51:02 – What unusual or underrated food or drink should more people try out?
51:55 – What is one mistake in your life and what did you learn from it?
52:30 – What does the first 30 minutes of your day look like and when does it start?
53:47 – What do you do or where do you go to get inspired?
54:14 – Who do you idolize above everyone else and why?
55:20 – What book do you read or gift the most?
56:28 – What silly thing should people do more of?
57:14 – If you could change one world problem with one wish, what would it be?
57:52 – Would you rather always be 10 minutes late or always be 20 minutes early?
58:18 – Would you rather move to a new city or town every week or never be able to leave the city or town you were born in?
58:50 – What makes you happiest?
01:00:18 – Any asks or requests for the audience?