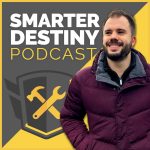 David Tomen is a writer and natural health expert, founder of the rapidly-growing nootropicsexpert.com. an incredible website for those looking to learn more about nootropics from someone who actually has done the research, dug through the clinical trials and made it into an easy to understand format. After being diagnosed with adult ADD and dealing with memory loss, David found the answer he was looking for in nootropics. David comes from a copywriter background, and his mission as a natural and alternative health direct response copywriter is to help people lead healthier, happier lives.
Bullet points
00:50 – Intro
02:30 – Getting into blogging and copywriting
05:00 – Getting sick
07:06 – Focusing on copywriting
08:45 – Learning about nootropics
09:50 – Having the right attitude
11:27 – Being diagnosed with adult ADD and PTSD
17:53 – Trying different medications
19:04 – Taking a one-year "stimulant-holiday"
21:45 – Beginning to cure memory loss
29:55 – The importance of testing on yourself
31:33 – Trying medathanol
36:50 – What happens when you stop taking nootropics
37:19 – Learn to listen to your body
44:05 – Future plans
46:12 – Where to find out more
52:00 – Rapid fire question round
52:20 – What superhero would you be and why?
53:15 – What is one thing that people incorrectly assume about you?
54:03 – What is the most pointless subject taught at schools and what would you replace it with? 59:05 – What is one amazing act of kindness you either witnessed or done yourself?
01:00:40 – What unusual or underrated food or drink should more people try out?
01:02:48 – What is one mistake in your life and what did you learn from it?
01:04:30 – What does the first 30 minutes of your day look like and when does it start?
01:07:04 – What do you do or where do you go to get inspired?
01:08:14 – Who do you idolize above everyone else and why?
01:09:55 – What book do you read or gift the most?
01:12:02 – What silly thing should people do more of?
01:12:33 – If you could change one world problem with one wish, what would it be?
01:14:30 – Would you rather always be 10 minutes late or always be 20 minutes early?
01:14:50 – Would you rather move to a new city or town every week or never be able to leave the city or town you were born in?
01:16:20 – What makes you happiest?
01:17:30 – Any asks or requests for the audience?