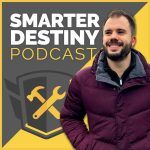 Tom Merrick is a CHEK Exercise Coach and CHEK Holistic Lifestyle Coach with over 5 years of experience training which has consisted of everything from endurance and cardio to bodybuilding and powerlifting. Tom is passionate about the bodyweight movement and has over 470 K subscribers on YouTube, where he teaches how to be more flexible. Tom's purpose is to provide guidance and a starting point for you to achieve your goals, whether you're just starting out or working on advanced skills.
Bullet points
01:00 – Intro
02:30 – The beginning of the journey
04:40 – What would be a good return in YouTube
06:35 – The years after university
09:45 – Starting a YouTube channel
12:10 – Having online clients
14:20 – The Dunning–Kruger effect
15:30- Assuming vs Reality
18:10 – Achieving massive growth on YouTube: why content is king
20:15 – Choosing how you want to come across
23:50 – Beat to the point
25:01 – Why retention is the only metric you should be paying attention to
26:45 – What kind of content is resonating right now
29:17 – Why should people stretch
32:40 – The benefits of getting cold
33:47 – Unwinding properly: the importance of light
37:03 – The benefits of red light therapy
41:02 – Where to find out more
42:52 – How important is the YouTube description
45:42 – Rapid fire question round
45:57 – What superhero would you be and why?
47:07 – What is one thing that people incorrectly assume about you?
48:23 – What is the most pointless subject taught at schools and what would you replace it with?
49:46 – What is one amazing act of kindness you either witnessed or done yourself?
52:07 – What unusual or underrated food or drink should more people try out?
55:01 – What is one mistake in your life and what did you learn from it?
56:25 – What does the first 30 minutes of your day look like and when does it start?
59:23 – What do you do or where do you go to get inspired?
59:54 – Who do you idolize above everyone else and why?
01:03:35 – What book do you read or gift the most?
01:06:19 – What silly thing should people do more of?
01:07:25 – If you could change one world problem with one wish, what would it be?
01:08:35 – Would you rather always be 10 minutes late or always be 20 minutes early?
01:09:21 – Would you rather move to a new city or town every week or never be able to leave the city or town you were born in?
01:10:25 – What makes you happiest?
01:11:30 – Any asks or requests for the audience?