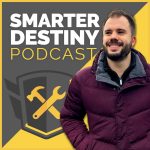 Tom Wang is a serial e-commerce entrepreneur who likes to "Scale the unscalable". After launching his first Amazon product in 2017, Tom was able to quit his 9-to-5 job that same year, and has built and scaled two 7-figures businesses since.
Bullet points
00:36 – Intro
03:00 – The beginning as an entrepreneur
07:10 – Starting an Amazon business
09:07 – Why 'bootstrap entrepreneur'
12:38 – The first winning product
15:01 – From selling to teaching
21:57 – Competing to win
24:56 – Selling on Amazon in 2020
27:05 – How to get started
33:04 – Where to find out more
34:00 – Rapid fire question round
34:15 – What superhero would you be and why?
36:38 – What is one thing that people incorrectly assume about you?
37:22 – What is the most pointless subject taught at schools and what would you replace it with?
39:12 – What is one amazing act of kindness you either witnessed or done yourself?
40:41 – What unusual or underrated food or drink should more people try out?
42:38 – What is one mistake in your life and what did you learn from it?
46:38 – What does the first 30 minutes of your day look like and when does it start?
47:46 – What do you do or where do you go to get inspired?
50:26 – Who do you idolize above everyone else and why?
52:01 – What book do you read or gift the most?
54:30 – What silly thing should people do more of?
55:13 – If you could change one world problem with one wish, what would it be?
55:36 – Would you rather always be 10 minutes late or always be 20 minutes early?
55:53 – Would you rather move to a new city or town every week or never be able to leave the city or town you were born in?
56:31 – What makes you happiest?
58:40 – Any asks or requests for the audience?