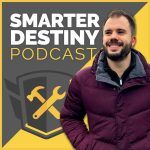 Chris Meade is an entrepreneur, inventor and the co-founder of CROSSNET, the world's first four-way volleyball game. Chris and his friends designed and patented the game, which is easy to access and easy to understand. In just three years, the company sold 8-figures worth of products, built retail relationships with some of the world's largest stores and is soon going international.
Bullet points
00:50 – Intro
02:47 – The starting point
05:00 – How the game came to be
07:44 – What makes people enjoy Crossnet more than regular Volleyball
10:55 – The next step: designing and manufacturing
13:07 – The first year
14:50 – Organizing tournaments
16:50 – Overcoming problems
19:18 – A typical inventory order
20:49 – The team
22:41 – Getting content for social media
25:46 – Advertising
27:20 – Marketing and reaching out
30:45 – The future of Crossnet and addressing challenges
34:00 – Where to find out more
34:40 – Rapid fire question round
35:15 – What superhero would you be and why?
35:50 – What is one thing that people incorrectly assume about you?
36:10 – What is the most pointless subject taught at schools and what would you replace it with?
37:17 – What is one amazing act of kindness you either witnessed or done yourself?
37:50 – What unusual or underrated food or drink should more people try out?
38:43 – What is one mistake in your life and what did you learn from it?
39:52 – What does the first 30 minutes of your day look like and when does it start?
40:47 – What do you do or where do you go to get inspired?
41:34 – Who do you idolize above everyone else and why?
41:54 -What book do you read or gift the most?
42:35 – What silly thing should people do more of?
43:03 – If you could change one world problem with one wish, what would it be?
45:15 – Would you rather always be 10 minutes late or always be 20 minutes early?
46:44 – Would you rather move to a new city or town every week or never be able to leave the city or town you were born in?
47:07 – What makes you happiest?
48:10 – Some final tips
55:52 – Any asks or requests for the audience?