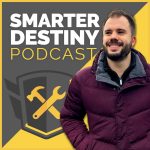 David Wolfe is the CEO and Founder of Olivers, a high-quality men's activewear brand focused on the essentials. The brand started 6 years ago from a Kickstarter campaign which was at the time one of the 5 top-performing campaigns in the apparel category, and this 8-figure brand has been featured all over the place since. Find out David's journey to creating and growing this successful brand in today's episode of Smarter Destiny.
Bullet points
00:54 – Intro
03:15 – The start of the journey
08:30 – What resonated with the early backers on Kickstarter
10:30 – The next step: fulfilling the orders
13:50 – What happens after completing the campaign
16:48 – The team
18:01 – Getting PR opportunities
21:04 – Online vs Offline
22:25 – Organic vs Paid
23:47 – The challenges
27:49 – The learnings
31:07 – Where to find out more about Olivers
32:15 – Rapid fire question round
32:40 – What superhero would you be and why?
33:03 – What is one thing that people incorrectly assume about you?
34:30 – What is the most pointless subject taught at schools and what would you replace it with?
36:39 – What is one amazing act of kindness you either witnessed or done yourself?
37:40 – What unusual or underrated food or drink should more people try out?
39:12 – What is one mistake in your life and what did you learn from it?
41:09 – What does the first 30 minutes of your day look like and when does it start?
42:44 – What do you do or where do you go to get inspired?
43:20 – Who do you idolize above everyone else and why?
44:53 – What book do you read or gift the most?
47:18 – What silly thing should people do more of?
48:33 – If you could change one world problem with one wish, what would it be?
49:02 – Would you rather always be 10 minutes late or always be 20 minutes early?
49:35 – Would you rather move to a new city or town every week or never be able to leave the city or town you were born in?
50:57 – What makes you happiest?
51:40 – Any asks or requests for the audience?