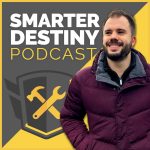 Tiffany Toombs is a mindset performance coach and keynote speaker devoted to helping people get out of their own way. Tiffany works with entrepreneurs who want to realize their true potential by helping them optimize their mindset to overcome self sabotage, fear and self doubt. She also assists organizations increase employee engagement, productivity and retention by educating on and implementing high performance systems.
Bullet points
00:50 – Intro
02:55 – The personal journey
07:40 – Becoming a mindset coach
09:30 – Giving therapy a try
12:20 – Going to personal development events
12:40 – Hiring life coaches
13:15 – Finding NLP and matrix therapy
17:18 – Helping others
23:04 – The most common challenges faced by entrepreneurs
26:20 – The three universal fears
28:26 – Understanding your belief system
32:19 – The power of manifestation
33:56 – Programming your mind
40:40 – The problem with seeking pleasure and avoiding pain
42:52 – Where to learn more
44:30 – Rapid fire question round
45:06 – What superhero would you be and why?
45:22 – What is one thing that people incorrectly assume about you?
45:54 – What is the most pointless subject taught at schools and what would you replace it with?
46:25 – What is one amazing act of kindness you either witnessed or done yourself?
46:45 – What unusual or underrated food or drink should more people try out?
47:35 – What is one mistake in your life and what did you learn from it?
47:58 – What does the first 30 minutes of your day look like and when does it start?
48:54 – What do you do or where do you go to get inspired?
50:35 – Who do you idolize above everyone else and why?
51:08 – What book do you read or give the most?
52:08 – What silly thing should people do more of?
52:42 – If you could change one world problem with one wish, what would it be?
53:02 – Would you rather always be 10 minutes late or always be 20 minutes early?
53:15 – Would you rather move to a new city or town every week or never be able to leave the city or town you were born in?
53:32 – What makes you happiest?
54:08 – Any asks or requests for the audience?