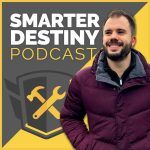 Adil Amarsi is the copywriter hired by the top companies looking to create powerful, emotional, and persuasive messages. Since 2008 his efforts have brought in over $700 million in sales for his clients selling their products and services. Using his ability, Abil has managed to live his best life while helping people, companies, celebrities in different industries and more go on to achieve massive success.
Bullet points
00:50 – Intro
04:15 – The start of the journey
12:45 – Working in marketing
16:26 – How to get good at selling
19:05 – Struggling with debt
20:55 – Choosing a path
25:45 – The current work
28:27 – The two biggest mistakes in selling information products
34:57 – Why we buy things
40:40 – The most important element to catch attention
50:00 – What works for social media video ads
58:20 – How to become a better copywriter
01:02:20 – Where to find out more
01:04:50 – How to help others while valuing your own time
01:07:07 – Rapid fire question round
01:07:25 – What superhero would you be and why?
01:08:06 – What is one thing that people incorrectly assume about you?
01:11:21 – What is the most pointless subject taught at schools and what would you replace it with?
01:12:17 – What is one amazing act of kindness you either witnessed or done yourself?
01:13:50 – What unusual or underrated food or drink should more people try out?
01:14:22 – What is one mistake in your life and what did you learn from it?
01:15:45 – What does the first 30 minutes of your day look like and when does it start?
01:16:53 – What do you do or where do you go to get inspired?
01:18:44 – Who do you idolize above everyone else and why?
01:19:50 – What book do you read or gift the most?
01:20:45 – What silly thing should people do more of?
01:25:15 – If you could change one world problem with one wish, what would it be?
01:26:44 – What makes you happiest?
01:29:18 – Any asks or requests for the audience?