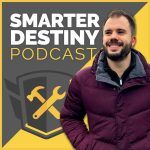 Frederick Light is the founder and Chief Executive Officer at BodyRock, the famous home workout movement with nearly 3 million fans on Facebook, nearly 1 million on YouTube, over 250 thousand Instagram followers and 1.5 billion videos views. Since its start in 2008, BodyRock has helped hundreds of thousands of people achieve their health and fitness goals remotely. Join us today to find out the struggles behind creating and scaling such a massive brand in today's episode of Smarter Destiny.
Bullet points
00:50 – Intro
02:55 – The start of the entrepreneurial journey
05:59 – Starting BodyRock
12:36 – Traveling and taking a loan
14:54 – The power of intention
19:50 – The first milestones
24:02 – Building a community outside of YouTube
26:50 – The time before influencers
29:04 – Getting started with affiliate marketing
31:00 – Getting into manufacturing
36:50 – The problem with the YouTube algorithm
37:45 – Jumping onto Facebook and getting into ecommerce
38:42 – Current traffic sources
41:50 – Current revenue and why scaling is expensive
44:53 – BodyRock Plus
49:03 – Where to find out more about BodyRock
49:30 – The struggles of being an entrepreneur
53:10 – Rapid fire question round
53:30 – What superhero would you be and why?
57:16 – What is the most pointless subject taught at schools and what would you replace it with?
59:00 – What is one amazing act of kindness you either witnessed or done yourself?
01:00:47 – What unusual or underrated food or drink should more people try out?
01:01:40 – What is one mistake in your life and what did you learn from it?
01:02:38 – What does the first 30 minutes of your day look like and when does it start?
01:05:33 – What do you do or where do you go to get inspired?
01:07:37 – What book do you read or gift the most?
01:09:03 – What silly thing should people do more of?
01:10:53 – If you could change one world problem with one wish, what would it be?
01:14:50 – What makes you happiest?