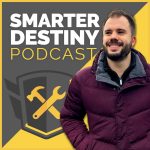 Ian Nagy is a copywriter who mastered the art of creating amazing YouTube ads. He is the co-founder of Inceptly, a digital marketing agency that does done-for-you YouTube services for D2C brands and manages over 3 million US dollars a month on ad spend. After needing to do competitive research for their clients, they built VidTao, the free software for tracking top-performing YouTube ads. Today he shares his fascinating life story, from studying oceanography and travelling the world, to leaving it all behind and becoming the person he is today.
Bullet points
00:57 – Intro
03:30 – The start of the journey
06:50 – Getting into meditation
09:20 – Starting nursing school
12:05 – Becoming a direct response copywriter
21:10 – Working remotely
21:50 – Getting a business partner
25:20 – What makes a successful physical product ecommerce ad on YouTube
33:54 – Facebook ads vs. YouTube ads
35:52 – Where should your ad send people to
38:21 – The research formula
41:24 – Doing a deep-dive survey
42:02 – What comes after the research process: testing variables
46:06 – Calculating your ad budget
48:38 – Why you should aim for a 25% view rate
50:23 – Where to find out more
51:40 – Rapid fire question round
51:58 – What superhero would you be and why?
52:20 – What is one thing that people incorrectly assume about you?
53:00 – What is the most pointless subject taught at schools and what would you replace it with?
53:50 – What is one random act of kindness you either witnessed or done yourself?
54:50 – What unusual or underrated food or drink should more people try out?
55:30 – What is one mistake in your life and what did you learn from it?
57:21 – What does the first 30 minutes of your day look like and when does it start?
58:22 – What do you do or where do you go to get inspired?
58:55 – Who do you idolize above everyone else and why?
01:01:26 – What book do you read or gift the most?
01:03:29 – What silly thing should people do more of?
01:04:05 – If you could change one world problem with one wish, what would it be?
01:05:00 – What makes you happiest?
01:05:23 – Any asks or requests for the audience?