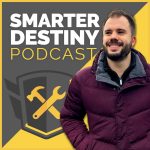 Alex Schlinsky is an entrepreneur, coach, speaker and an expert on culture. He is the CEO of Sky Social Media, a unique digital marketing firm that helps business owners and companies scale past seven figures by helping them implement systems and cultivate culture. His mission is to help entrepreneurs break free from the "Freelancer's Trap" and become the CEO of their own profitable marketing or coaching agency. Find out how, on today's episode of Smarter Destiny Podcast.
00:40 – Intro
02:45 – The start of the entrepreneurial journey
09:00 – Changing paths
12:42 – Becoming a social media manager
16:00 – Sky Social Media
19:35 – The honeymoon from hell
23:17 – The coma test
30:55 – The importance of culture
36:00 – Top three culture building tips
36:33 – Team culture
41:04 – Having a core mission statement
41:54 – Understanding the 7 words in C.U.L.T.U.R.E.
48:42 – Where to find out more
49:30 – Rapid fire question round
49:45 – What superhero would you be and why?
51:14 – What is one thing that people incorrectly assume about you?
52:05 – What is the most pointless subject taught at schools and what would you replace it with?
53:17 – What is one random act of kindness you either witnessed or done yourself?
54:23 – What unusual or underrated food or drink should more people try out?
55:20 – What is one mistake in your life and what did you learn from it?
57:40 – What does the first 30 minutes of your day look like and when does it start?
58:50 – What do you do or where do you go to get inspired?
59:53 – Who do you idolize above everyone else and why?
01:00:45 – What book do you read or gift the most?
01:02:40 – What silly thing should people do more of?
01:04:03 – If you could change one world problem with one wish, what would it be?
01:05:10 – What makes you happiest?
01:08:56 – Any asks or requests for the audience?