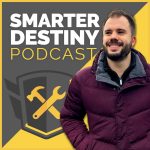 Tony Grebmeier is a serial entrepreneur. He is the CEO and Co-Founder of ShipOffers, a products and fulfillment 8-figure company that specializes in helping entrepreneurs worldwide since 2001. Tony is also the creator of the Be Fulfilled brand, which empowers entrepreneurs with courses, journals, podcasts, and events to help them become more fulfilled in life.
Bullet points
00:50 – Intro
03:17 – The start of the entrepreneurial journey
07:19 – The first jobs
09:50 – Launching ShipOffers
11:14 – Becoming a millionaire and losing it all
17:00 – Coming back from the loss
26:02 – The Be Fulfilled Journal
33:43 – Where to find out more about the Be Fulfilled Movement
34:47 – ShipOffers
41:00 – Where to find out more about ShipOffers
42:29 – Rapid fire question round
42:57 – What superhero would you be and why?
43:27 – What is one thing that people incorrectly assume about you?
43:48 – What is the most pointless subject taught at schools and what would you replace it with?
45:30 – What is one random act of kindness you either witnessed or done yourself?
46:28 – What unusual or underrated food or drink should more people try out?
47:11 – What is one mistake in your life and what did you learn from it?
48:21 – What does the first 30 minutes of your day look like and when does it start?
50:02 – What do you do or where do you go to get inspired?
58:38 – Who do you admire above everyone else and why?
59:22 – What book do you read or gift the most?
01:02:27 – What silly thing should people do more of?
01:02:47 – If you could change one world problem with one wish, what would it be? 01:04:27 – What makes you happiest?
01:06:52 – Any asks or requests for the audience?