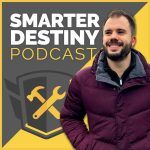 Intro
James Corr is an entrepreneur focused on product development, marketing and optimization. While operating the successful growth consultancy OnlyGrowth, James worked with Shopify Plus merchants, and realized there had to be a better way for brands to build meaningful relationships with their customers. Passionate about helping them grow, James cofounded SMS Live to help Shopify merchants increase conversions using text messages.
Bullet points
00:50 – Intro
03:20 – The start of the journey: building websites
05:13 – Getting into Facebook
07:20 – Working with brands
08:30 – OnlyGrowth
09:27 – What can brands optimize?
12:53 – SMS Live
15:40 – What stats you should look at
17:13 – ROI
19:00 – Personalizing SMS Live for you
21:56 – Order status + post-purchase follow-up
25:25 – How to get started
27:08 – Rapid fire question round
27:31 – What superhero would you be and why?
28:00 – What is one thing that people incorrectly assume about you?
28:31 – What is the most pointless subject taught at schools and what would you replace it with?
29:24 – What is one random act of kindness you either witnessed or done yourself?
30:06 – What unusual or underrated food or drink should more people try out?
30:51 – What is one mistake in your life and what did you learn from it?
31:58 – What does the first 30 minutes of your day look like and when does it start?
32:32 – What do you do or where do you go to get inspired?
33:18 – What book do you read or gift the most?
34:11 – What silly thing should people do more of?
34:57 – If you could change one world problem with one wish, what would it be?
36:00 – What makes you happiest?
36:51 – Any asks or requests for the audience?