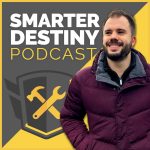 Cody Iverson is the CEO and co-founder of VisCap Media. After owning a number of ecommerce brands and businesses that generated multiple 7-figures in revenue across them, he's now doing it on the agency side. VisCap Media is an agency that specializes in creating high-converting direct response ads for D-to-C ecommerce brands.
Bullet points
00:45 – Intro
03:32 – The entrepreneurial start
05:16 – Creating the first businesses
09:22 – Don't recreate the wheel
11:30 – From selling products to helping others to sell
13:51 – Getting the first clients
15:57 – Direct response
19:35 – Microads
22:23 – Creating a great business culture
24:09 – The hiring process
26:18 – Where to find out more
27:15 – Rapid fire question round
27:45 – What superhero would you be and why?
29:55 – What is one thing that people incorrectly assume about you?
31:04 – What is the most pointless subject taught at schools and what would you replace it with? 32:33 – What is one random act of kindness you either witnessed or done yourself?
33:35 – What unusual or underrated food or drink should more people try out?
34:40 – What is one mistake in your life and what did you learn from it?
36:28 – What does the first 30 minutes of your day look like and when does it start?
39:14 – What do you do or where do you go to get inspired?
40:12 – Who do you idolize above everyone else and why?
41:10 – What book do you read, recommend or gift the most?
43:37 – What silly thing should people do more of?
44:55- If you could change one world problem with one wish, what would it be?
47:01 – What makes you happiest?
48:02 – Any asks or requests for the audience?