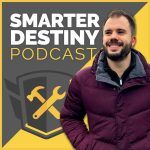 Kirk Cooper is the founder of Ecom Automation Gurus, which provides done-for-you Amazon automation businesses. Ecom Automation fully manages Amazon businesses for their clients, allowing them to have a passive income based business. The results really speak for how well Kirk knows how to do it: his personal store that does more than USD 600K a month, and has multiple clients doing multiple 7-figures a year.
Bullet points
00:35 – Intro
02:47 – The start of the journey: teaching and coaching
06:00 – Building the first businesses
08:37 – Building revenue
09:15 – Dropshipping and using credit cards
10:52 – Margins
12:04 – Keeping it local
13:16 – Amazon ranking
17:07 – Building a team
20:25 – Why run stores for others?
24:26 – The initial process
28:34 – The risk of losing your account
31:27 – The fee structure
38:47 – The biggest mistake Amazon sellers make
40:51 – Winning the buy button
43:04 – Where to find out more
44:45 – Rapid fire question round
45:05 – What superhero would you be and why?
45:32 – What is one thing that people incorrectly assume about you?
46:30 – What is the most pointless subject taught at schools and what would you replace it with?
47:35 – What is one random act of kindness you either witnessed or done yourself?
49:15 – What unusual or underrated food or drink should more people try out?
50:24 – What is one mistake in your life and what did you learn from it?
52:46 – What does the first 30 minutes of your day look like and when does it start?
53:53 – What do you do or where do you go to get inspired?
54:58 – Who do you idolize above everyone else and why?
56:20 – What book do you read, recommend or gift the most?
57:19 – What silly thing should people do more of?
58:07 – What makes you happiest?
59:34 – Any asks or requests for the audience?