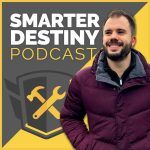 Sebastien Vanderlinde is the co-founder & CEO of Yumi Nutrition, a multi 7-figure turnover ecommerce brand selling both online and offline. The Manchester-based company makes taking vitamins a more pleasurable experience by delivering key nutrition to their customers through gummy format, and has become one of the leading chewable vitamin companies in the UK.
Bullet points
00:40 – Intro
02:55 – The start as an entrepreneur
06:45 – The first app idea: Spotlinks
07:46 – Getting into ecommerce and vitamins
11:34 – Finding a manufacturer in the early days
14:47 – Revenue growth
18:03 – Raising investment
23:23 – Spending the investment money in a successful way
25:36 – Selling online vs offline
30:30 – How retailers find out about the brand
32:16 – The margin in retail
35:28 – Where does cold traffic comes from
37:50 – Where to find out more
39:11 – Rapid fire question round
39:37 – What superhero would you be and why?
40:22 – What is one thing that people incorrectly assume about you?
40:55 – What is the most pointless subject taught at schools and what would you replace it with?
41:56 – What is one random act of kindness you either witnessed or done yourself?
42:35 – What unusual or underrated food or drink should more people try out?
43:24 – What is one mistake in your life and what did you learn from it?
44:22 – What does the first 30 minutes of your day look like and when does it start?
44:56 – What do you do or where do you go to get inspired?
45:58 – Who do you admire above everyone else and why?
46:53 – What book do you read, recommend or gift the most?
48:24 – What silly thing should people do more of?
48:58 – If you could change one world problem with one wish, what would it be?49:53 – What makes you happiest?
51:11 – Any asks or requests for the audience?