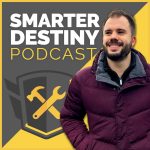 Alex Keyan is a serial entrepreneur with multiple 7 and 8 figures businesses to his name. He is the CEO and Founder of an amazing brand that is innovating skin care. Alex is a true marketing and ecommerce expert: his current brand is in the 8-figure range with a 50% repeat business rate, without doing subscriptions.
Bullet points
00:37 – Intro
02:20 – The starting point
05:35 – Launching the first 7-figure business
08:27 – Taking the learnings from one business to the next one
08:55 – Going solo
12:35 – The next businesses
15:16 – From selling other people's brands to forming your own
17:06 – Launching the current brand: goPure
19:07 – The first hero product and the d2c model
20:19 – The biggest mistake
22:18 – Having an in-house team vs leveraging the expertise of an agency
25:28 – Building business culture
26:55 – The best marketing decisions
31:49 – Knowing and tracking customer lifetime value
5:38 – The top traffic sources
37:55 – Rapid fire question round
38:33 – What superhero would you be and why?
39:22 – What is one thing that people incorrectly assume about you?
40:18 – What is the most pointless subject taught at schools and what would you replace it with?
41:39 – What is one random act of kindness you either witnessed or done yourself?
43:27 – What unusual or underrated food or drink should more people try out?
44:14 – What is one mistake in your life and what did you learn from it?
46:17 – What does the first 30 minutes of your day look like and when does it start?
47:50 – What do you do or where do you go to get inspired?
50:08 – What book do you read, recommend or gift the most?
51:55 – What silly thing should people do more of?
52:20 – If you could change one world problem with one wish, what would it be?
53:10 – What makes you happiest?
54:04 – Any asks or requests for the audience?