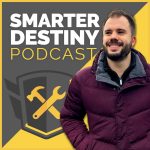 Hannah Carter is the founder and CEO of LoveOggs.com, an innovative brand replacing eggs for a plant-based alternative. She is on a mission to remove the 'hidden' animal products in our food, starting with eggs. Love Oggs is quite a new company, but it has already hit multiple 7-figures revenue and it's being sold in the 3 biggest retail stores in the UK.
Bullet points
00:30 – Intro
02:10 – The start of the entrepreneurial journey
04:00 – Retraining and realizing the individual's potential
08:38 – Stress and what "go with the flow" really means
13:14 – Going vegetarian and the impact on the environment
15:40 – Looking for an egg alternative
20:29 – The challenges of developing the product
26:30 – Scaling to 7-figures in the first 9 months
26:50 – The selling tactic that landed the three biggest supermarkets
29:50 – PR: focus on the message
33:15 – Choosing "the least wrong"
37:40 – Where to find out more
39:55 – Rapid fire question round
40:09 – What superhero would you be and why?
40:50 – What is one thing that people incorrectly assume about you?
41:27 – What is the most pointless subject taught at schools and what would you replace it with?
42:47 – What is one random act of kindness you either witnessed or done yourself?
44:15 – What unusual or underrated food or drink should more people try out?
45:02 – What is one mistake in your life and what did you learn from it?
46:07 – What does the first 30 minutes of your day look like and when does it start?
49:02 – What do you do in your downtime?
50:16 – Who do you idolize above everyone else and why?
53:05 – What book do you read, recommend or gift the most?
53:40 – What silly thing should people do more of?
54:55 – If you could change one world problem with one wish, what would it be?
57:03 – What makes you happiest?
58:25 – Any asks or requests for the audience?