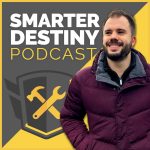 Kris Dehnert is a serial entrepreneur that has found success in a lot of different industries, suchs as real estate, apparel, restaurants, print on demand, consulting and social media management. Kris was one of the earliest super affiliates on Teespring, and he has made more than 35 M in sales online since his early days figuring out Facebook. He is currently the CEO and Partner of Dugout Mugs, which has been doing 7-figure revenue per year at an 8-figure valuation, and it only launched in 2017. Kris is also the founder and President of Dehnert Media Group, where he consults with businesses in the areas of sales, marketing, and ecommerce. He has consulted for two billion-dollar companies and tons of multiple 7-figures companies.
Bullet points
00:35 – Intro
02:11 – The start of the entrepreneurial journey
05:44 – Leveraging social media to do traditional business
08:36 – The next thing: real estate and 2008
10:30 – Treating everything like a real business
12:51 – Moving into passive income: creating an affiliate program and consulting
16:38 – Consulting for 2 billion-dollar companies: creating a conversation
20:53 – The best gamification examples
22:56 – People want to belong
23:47 – How Dugout Mugs started
29:11 – Personal core metrics
36:30 – Where to find out more
38:35 – Rapid fire question round
39:06 – What superhero would you be and why?
39:48 – What is one thing that people incorrectly assume about you?
40:11 – What is the most pointless subject taught at schools and what would you replace it with?
42:16 – What is one random act of kindness you either witnessed or done yourself?
43:33 – What unusual or underrated food or drink should more people try out?
44:41- What is one mistake in your life and what did you learn from it?
45:21 – What does the first 30 minutes of your day look like and when does it start?
46:54 – What do you do or where do you go to get inspired?
47:55 – What book do you read, recommend or gift the most?
49:00 – What silly thing should people do more of?
53:39 – If you could change one world problem with one wish, what would it be?
55:05 – What makes you happiest?
56:51- Any asks or requests for the audience?