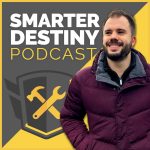 Freddy Ward is the co-founder and CEO of Wild, the natural deodorant tackling the single use plastic issue. Wild is reinventing sustainability in the bathroom with stylish, natural and sustainable products delivered to your door. The brand has raised 2 M pounds in investment and already are a 7-figure company. Find out the complete story, plus some great tips on branding and marketing, up next.
Bullet points
00:40 – Intro
03:00 – The start of the entrepreneurial journey
05:20 – Learning about sales
07:49 – Transferring the skills to Hello Fresh
11:00 – Leveraging tactics: it's not about creating a brand
13:14 – Getting started with direct mail
16:32 – What angle works in direct mail
18:10 – What is a good response rate in direct mail
19:37 – Transitioning away from Hello Fresh
26:10 – Developing the formula for a new natural deodorant
31:26 – Raising 2 M pounds
35:01 – Having a great partner
37:05 – Top channels for new customer acquisition
40:00 – The strategy for customers leaving reviews
44:06 – Where to find out more
44:52 – Rapid fire question round
45:10 – What superhero would you be and why?
45:34 – What is one thing that people incorrectly assume about you?
46:16 – What is the most pointless subject taught at schools and what would you replace it with?
46:50 – What is one random act of kindness you either witnessed or done yourself?
47:32 – What unusual or underrated food or drink should more people try out?
48:24 – What is one mistake in your life and what did you learn from it?
49:38 – What does the first 30 minutes of your day look like and when does it start?
50:10 – What do you do or where do you go to get inspired?
50:36 – What book do you read, recommend or give the most?
51:20 – What silly thing should people do more of?
51:58 – If you could change one world problem with one wish, what would it be?
52:16 – What makes you happiest?
52:49 – Any asks or requests for the audience?