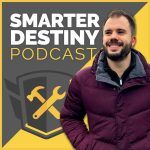 Tahira Nizari-Buermann is the co-founder and managing director of Kazi Yetu, an agribusiness selling delicious teas from Tanzania. Kazi Yetu is a social enterprise with a triple bottom line, meaning it's all about the social impact, the environmental impact as well as flourishing as a financially healthy business. Find out how the company managed to grow massively (a lot of the time almost by accident) while promoting local value addition, in today's episode of Smarter Destiny Podcast.
Bullet points
00:30 – Intro
02:25 – Life in Tanzania
03:22 – The start of the entrepreneurial journey
05:46 – Tanzania's teas
06:35 – Increasing income for families in rural areas
08:44 – A taste for tea
10:00 – Tahira's previous business experience
10:56 – Start with the market
14:38 – What production looks like right now
17:07 – The triple bottom line: creating shared value
18:30 – The environmental approach
19:55 – Being an enlightened entrepreneur
21:56 – Digitalizing traceability
24:02 – The almost accidental online success
27:57 – The Forbes feature
29:07 – Exploring other uses for tea
30:42 – Where to find out more
31:23 – Rapid fire question round
31:38 – What superhero would you be and why?
32:54 – What is one thing that people incorrectly assume about you?
34:15 – What is the most pointless subject taught at schools and what would you replace it with?
41:01 – What is one random act of kindness you either witnessed or done yourself?
41:41 – What unusual or underrated food or drink should more people try out?
43:22 – What is one mistake in your life and what did you learn from it?
44:27 – What does the first 30 minutes of your day look like and when does it start?
45:20 – What do you do or where do you go to get inspired?
48:02 – Who do you admire above everyone else and why?
46:51 – What book do you read, recommend or gift the most?
47:49 – What silly thing should people do more of?
49:03 – If you could change one world problem with one wish, what would it be?
50:04 – What makes you happiest?
50:54 – Any asks or requests for the audience?
Twitter: @tanzaniatea & @t_nizari
Facebook: @kaziyetu.tz
Instagram: @tanzania_tea_collection
LinkedIn: https://www.linkedin.com/in/tahira-nizari-07a59b29/