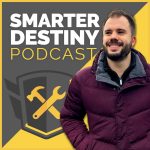 Deividas Mikocionis is the co-founder at Sugatan.io, a growth hacking agency for ecommerce businesses. After starting from scratch two years ago, they are currently working with three brands that combined are going to make 120 million dollars in revenue this year alone. The agency drives sales using content marketing and growth hacking techniques in combination with viral marketing and direct response advertising.
Bullet points
00:35 – Intro
03:05 – The start as an entrepreneur
09:44 – The learning methodology
12:30 – How to stay disciplined
15:55 – Ecommerce growth
19:12 – The low hanging fruit at different stages of growth
27:31 – The most common mistakes with Facebook and Instagram ads and how to solve them
30:27 – Testing Facebook ads
32:35 – The early indicators when you are testing
34:38 – Scaling campaigns
41:00 – Driving traffic during testing
41:55 – Where to find out more
45:57 – Rapid fire question round
46:20 – If you ever had to start again, how would you make your money?
48:44 – What is the most common leadership mistake?
49:30 – Who is the best leader ever (alive or dead) and why?
50:23 – How do you hire top talent?
51:44 – How do you evaluate a good business deal?
53:10 – How do you identify a good business partner?
54:09 – What is one of your proudest moments?
56:18 – What is one interesting fact about you that not many people would know?
56:55 – What would you advise to someone who wants to get into psychedelics safely?
01:00:24 – What daily routines do you have (morning or evening) that have helped make you successful?
01:02:29 – What book (or books) changed your mindset or life?
01:02:56 – What is the most exciting question you spend your time thinking about?
01:07:02 – What advice would you give your younger self?
01:08:00 – What was your biggest challenge starting in business and how did you overcome it?
01:09:02 – What unusual or underrated food or drink should more people try out?
01:09:45 – What makes you happiest?
01:11:08 – Any asks or requests for the audience?