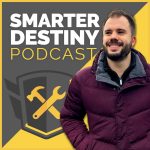 Natasha Semago is the founder and CEO of VeeFresh, a multi 7-figure company in the feminine care space that makes vaginal health easy. Natasha founded VeeFresh based on her personal struggle with recurring bacterial vaginosis and the desire to help other women who have experienced chronic vaginal issues. After years of trial and error, Natasha is finally sharing the nature-based solutions she found, and is helping women take back their confidence through community, education, and effective solutions.
Bullet Points
00:34 – Intro
02:31 – The start as an entrepreneur
06:20 – How the business idea came around
08:50 – The first product
10:48 – Getting started: manufacturing and marketing
13:47 – Taking off
16:56 – Deepening the connection with the customers
19:52 – What's next
22:09 – Where to find out more
22:55 – Rapid fire question round
23:26 – If you ever had to start again, how would you make your money?
24:15 – What is the most common or biggest mistake leaders make?
25:54 – Who is the best leader ever (alive or dead) and why?
27:08 – How do you hire top talent?
28:26 – How do you evaluate a good business deal?
29:23 – How do you identify a good business partner?
30:36 – What is one of your proudest moments?
31:41 – What is one interesting fact about you that not many people would know?
32:53 – What daily routines do you have (morning or evening) that have helped make you successful?
34:30 – What book (or books) changed your mindset or life?
35:02 – What is the most exciting question you spend your time thinking about?
35:40 – What advice would you give your younger self?
36:14 – What was your biggest challenge starting in business and how did you overcome it?
38:35 – What unusual or underrated food or drink should more people try out?
39:35 – What makes you happiest?
41:15 – Any asks or requests for the audience?