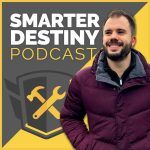 Shihan Chowdhury is the CIO and co-founder of Power Media Group, a multimedia marketing company that has 4 K brands under its umbrella, each one generating between 7 and 8 figures revenue. Shihan is an expert on building amazing ecommerce brands that perform. Today he will share his proven-steps to grow an ecommerce business, and how focusing on customer service and understanding the "why" can be the key to get people to come back
Bullet points
00:40 – Intro
02:24 – The start as an entrepreneur
06:30 – Shifting from teas to supplements: differences and similarities
09:27 – The social algorithm
12:50 – The team
14:36 – The steps to building an ecommerce brand
18:34 – Getting people to come back
23:11 – Mimicking the in-store experience online
24:36 – Making ecommerce personal
26:00 – Understanding your clients: segmentation tools
27:29 – Where to find out more
29:53 – Rapid fire question round
29:48 – If you ever had to start again, how would you make your money?
30:24 – What is the most common or biggest mistake leaders make?
31:10 – Who is the best leader ever (alive or dead) and why?
32:21 – How do you hire top talent?
33:26 – How do you evaluate a good business deal?
34:16- How do you identify a good business partner?
35:01 – What is one of your proudest moments?
35:48 – What is one interesting fact about you that not many people would know?
36:57 – What daily routines do you have (morning or evening) that have helped make you successful?
38:21 – What book (or books) changed your mindset or life?
38:46 – What is the most exciting question you spend your time thinking about?
41:08 – What advice would you give your younger self?
41:46 – What was your biggest challenge starting in business and how did you overcome it?
42:47 – What unusual or underrated food or drink should more people try out?
44:32 – What makes you happiest?
45:31 – Any asks or requests for the audience?