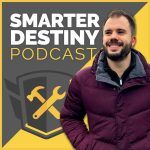 John Hagan formerly was the director of performance marketing at Purelei, an 8-figure fast-growing company specializing in influencer marketing, one of John's superpowers. Now, John is the co-founder at Volt agency, a boutique performance marketing and development agency that specializes in the growth of DTC businesses. At Volt, they help brands with their dark posting strategies and the matchmaking between brands and influencers. In today's episode we will get into paid social and influencer marketing. We will discuss what dark posting is and how you can start implementing dark posting strategies for your brand. All this and much more, up next.
Bullet points
(00:30) Intro
(02:52) The start as an entrepreneur
(04:39) What can be achieved online with the right setup and product
(06:15) Going from dropshipping to branding
(07:31) Understanding how to do paid social
(09:33) What is dark posting
(11:45) &BAM
(13:33) Reaching out to influencers and structuring a deal
(16:41) How does dark posting affect the influencer
(17:57) The difference in ROAS
(18:45) People-to-people sales
(22:55) Low-hanging fruit in dark posting: Posting as the founder of the brand
(28:20) Low-hanging fruit in dark posting: Working with influencers you already had success with
(29:33) Going with new influencers
(30:40) Founding Volt Agency
(31:49) Media buying
(32:16) Full-stack development
(34:05) Incubation
(34:54) Where to find out more
(35:19) Rapid fire question round
(35:35) If you ever had to start again, how would you make your money?
(37:34) What is the most common or biggest mistake that leaders make?
(38:56) Who is a great leader (alive or dead) and why?
(40:05) How do you hire top talent?
(41:17) What mistakes or challenges need to be overcome to be a successful media buyer?
(42:44) What might a media buying process look like?
(43:40) How do you evaluate a good business deal?
(44:39) What is one of your proudest moments?
(45:27) What is one interesting fact about you that not many people would know?
(47:11) What daily routines do you have (morning or evening) that have helped make you successful?
(49:41) What book (or books) changed your mindset or life?
(51:31) What is the most exciting question you spend your time thinking about?
(52:25) What advice would you give your younger self?
(53:07) What was your biggest challenge starting in business and how did you overcome it?
(54:04) What unusual or underrated food or drink should more people try out?
(55:11) What makes you happiest?
(56:23) Any asks or requests for the audience?