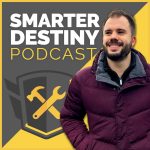 Meaghan and AJ Connell are business and life partners. Together they co-founded Praxis Metrics, a company committed to helping businesses grow by making better decisions from their data. The power couple shares with us how they scaled their business and their lives by being data-driven in every aspect of their lives, all while running their business remotely and traveling the world.
Show notes Meaghan & AJ Yager
00:30 – Introduction Meaghan and AJ Yager.
02:15 – How was your background and how you got together as a power couple?
13:05 – Meaghan, what do you think is a great technique for selling encyclopedias in the modern age?
16:48 – How did you meet?
21:40 – When did you become a couple in business?
23:15 – Tell us about these brain scans you had to understand how you think?
30:05 – What are your top three advice for other couple entrepreneurs?
32:45 – Are you a 24/7 business couple or do you take breaks?
40:08 – Besides bioscans, what other unusual experiences did you have?
47:20 – What does Praxis do for the clients you have?
52:25 – Could you share some anecdote about a specific problem that you dealt with and found especially interesting?
58:05 – What do the first few weeks of a customer with Praxis look like?
01:03:00 – What are the three recurrent metrics that should be prioritized and they aren't?
01:10:23 – Where can people go to learn more about Praxis?
01:10:55 – QUICK FIRE QUESTION ROUND
Any unusual drinking or eating habits?
How do you get yourself into a state of flow?
What habit or opinion you have that people tend to disagree with?
What nontraditional lesson would you teach at school?
What books had the biggest impact on your life?
How do the first 30 minutes of your day look like?
Any advice for your previous boss?
What do you do to get inspired?
How would you double US$ 5K in 24h?
What's the best advice ever given to you?
What silly thing people should do more of?
Would you rather fight one horse sized duck or one hundred duck sized horses?
How would you convince someone to do something good that they didn't want to do?
What makes you happiest?