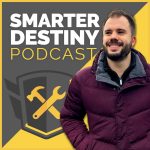 Eric Toz is a tech entrepreneur and the Founder of ShineOn. Eric decided to get himself purposely fired from his first job in order to start his own company, which led him to master ecommerce and digital marketing. Now as the President of ShineOn, an ecommerce platform that allows people to create and sell custom jewelry, he's an expert on all things custom-made. Find out his journey and tips for success in today's episode of Smarter Destiny.
Show notes Eric Toz
00:30 – Introduction Eric Toz
03:15 – How was the beginning of your path as an entrepreneur?
13:05 – What were the most important learnings from that period?
15:00 – When did you decide to do it on your own?
16:17 – How did you approach this new startup?
26:30 – How did you raise your first million?
31:35 – What were your most important learnings on that period?
38:35 – What legal aspects of the business are important to have in mind when you are starting?
45:15 – What was your biggest selling product this year?
46:21 – RAPID FIRE QUESTION ROUND

46:33 – Any unusual drinking or eating habits?
49:43 – What habit or opinion you have that people tend to disagree with?
50:55 – What nontraditional lesson would you teach at school?
52:51 – What books had the biggest impact on your life?
54:35 – How do the first 30 minutes of your day look like?
57:28 – Any advice for your previous boss or bosses?
59:33 – What do you do or where do you go to get inspired?
1:00:20 – How would you double US$ 5K in 24h?
1:01:45 – What's the best advice ever given to you?
1:02:44 – What silly thing people should do more of?
1:03:46 – Would you rather fight one horse sized duck or one hundred duck sized horses?
1:04:40 – How would you convince someone to do something good that they didn't want to do?
1:06:40 – What makes you happiest?
1:07:45 – Any asks or requests for the audience?