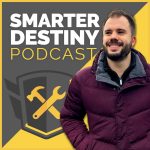 Ben Angel is an international best-selling author, professional speaker and personal branding marketing specialist. Ben has always been interested in health and personal growth, which lead him to solve a problem that is not very often talked about. Now his focus is on helping others achieve their maximum potential by biohacking their way to success.
Show notes Ben Angel
00:30 – Who is Ben Angel?
03:10 – Is there a point in the past when you started your biohacking path?
06:36 – What is biohacking?
09:10 – When did you do your first biohacking?
17:40 – What happened after that first breakpoint?
21:10 – What was the process at this first point?
24:34 – What sort of things can the reader of "Unstoppble" expect?
31:15 – Could you provide three advices for people?
35:20 – Give us some examples about things you see as usual problems
40:01 – Could you share some success stories about the people you've helped?
45:40 – Where can people go to learn more about biohacking and your services?
46:41 – RAPID FIRE QUESTION ROUND

47:00 – What are your favorite biohacks?
49:05 – What can people do to easily biohack themselves?
49:41 – One thing that people that are struggling with mental health issues should know?
50:15 – What is your position on alcohol consumption?
52:15 – Any unusual food or drink you usually consume?
54:35 – How do you do to get into a state of flow?
57:18 – What habbit or opinion you have that people disagree with?
58:30 – What nontraditional lesson would you teach at school?
01:01:40 – What books had the biggest impact on your life?
01:02:57 – What do the first 30 minutes of your day look like?
01:07:35 – Any advice for your previous boss or bosses?
01:08:25 – What do you do or where do you go to get inspired?
01:09:25 – How would you double US$ 5K in 24h?
01:11:09 – What's the best advice ever given to you?
01:11:50 – What silly thing people should do more of?
01:13:08 – Would you rather fight one horse sized duck or one hundred duck sized horses?
01:13:35 – How would you convince someone to do something good that they didn't want to do?
01:14:25 – What makes you happiest?
01:15:28 – Any asks or requests for the audience?