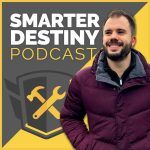 Indian entrepreneur Ashwin Sokke is the Co-Founder of Fit & Glow and its beauty and personal care brand WOW Skin Science, which is one of the fastest-growing ecommerce stores in the world. With his focus on holistic wellness and personal care products, the company has become one of the four front runners of a very competitive industry, now selling their products world-wide.
Show notes Ashwin Sokke
00:30 – Introducing Ashwin Sokke
02:35 – Tell us about the starting point on your entrepreneurial journey.
08:30 – Was this first step in the US?
16:20 – AS: "We started hearing that the customers used our products for their hair…"
24:50 – Do you still manufacture all your products in India?
28:40 – How do you deal with the multiple languages in India?
34:40 – Is there a difference prize set for India and the US with your products?
39:25 – How do you track the success the success of COD?
42:30 – How did you work on the packaging when you are aiming towards being eco-friendly?
44:00 – RAPID FIRE QUESTIONS ROUND

44:25 – Any unusual drinking or eating habits?
46:03 – How do you get into a state of flow?
47:11 – What habit or opinion you have that people tend to disagree with?
48:12 – What nontraditional lesson would you teach at school?
49:52 – What books had the biggest impact on your life?
51:05 – What do the first 30 minutes of your day look like?
52:17 – Any advice for your previous boss or bosses?
52:56 – What do you do or where do you go to get inspired?
55:35 – How would you double US$ 5K in 24h?
56:31 – What's the best advice ever given to you?
57:05 – What silly thing people should do more of?
57:40 – Would you rather fight one horse sized duck or one hundred duck sized horses?
58:44 – How would you convince someone to do something that is good for them, but don't want to do it?
59:25 – What makes you happiest?
1:00:20 – Do you have any asks or requests from the audience?