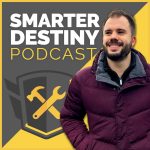 Gretta van Riel is one of Australia's top young serial entrepreneurs and influencers, with a massive Instagram following and her own ecommerce course.. Having 5 multi-million dollar startups under her belt, she truly knows how to turn audiences into brands and trends into markets With her deep understanding of the influencer marketing scene both as a brand and an influencer, Gretta created her own marketing platform, Hey Influencers, to help connect brands and social media influencers. Find out how she went from launching her first startup at the age of 22 with $24 in the bank to becoming a global success in today's episode of Smarter Destiny.
Show notes Gretta Van Riel
00:30 – Introduction Greta Van Riel
02:35 – What were your beginnings as an entrepreneur like?
05:40 – How did you manage your 9 to 5 job at the same time you were starting your own business?
08:38 – Where or when did the name of your brand came up?
10:20 – How was SkinnyMeTea's growth? And how did you transitioned to your next business?
16:40 – Tell us about the watches and how did they became such a great thing.
22:50 – What was the next thing you aimed for?
31:15 – The start of this new journey was the end of your e-commerce or not?
35:20 – How are you feeling about the event we are having in Thailand?
41:15 – RAPID FIRE QUESTIONS ROUND

41:32 – Any unusual drinking or eating habits?
44:19 – How do you get into a state of flow?
48:11 – What habit or opinion you have that people tend to disagree with?
50:41 – What nontraditional lesson would you teach at school?
52:12 – What books had the biggest impact on your life?
56:29 – What do the first 30 minutes of your day look like and when does it start?
59:28 – Any advice for your previous boss or bosses?
1:01:37 – What do you do or where do you go to get inspired?
1:05:16 – How would you double US$ 5K in 24h?
1:05:31 – What's the best advice ever given to you?
1:06:28 – What silly thing people should do more of?
1:10:21 – Would you rather fight one horse sized duck or one hundred duck sized horses?
1:11:06 – How would you convince someone to do something that is good for them, but don't want to do it?
1:12:25 – What makes you happiest?
1:13:50 – What would you say to someone that is thinking about coming to Thailand to the Cartels Mastermind event?
1:15:44 – Do you have any asks or requests from the audience?