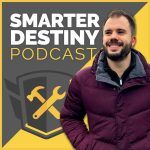 Dan Bowyer is a tech entrepreneur, operator and investor with 20 years' experience building businesses. Now, as the Co-Founder of SuperSeed, he invests in tech startups and helps them get out of startup mode using scalable, repeatable and profitable sales models. From joining a Boy Band in the 90s to falling in love with tech and creating a business around it, you can find his full story and the secrets to his success in this episode of Smarter Destiny.
Show notes Dan Bowyer
00:30 – Introduction Dan Bowyer
02:20 – How you began your entrepreneurial journey?
10:25 – How do someone with no musical talent get into the pop industry?
13:25 – What was the next step on your journey?
19:25 – What were your most important learning points?
22:00 – At this point did you know what did you want to do next?
25:30 – How was this new beginning?
28:37 – After this time finding yourself, you went back on the business life, what was it like?
34:47 – When did you transition from the life in South Africa to the next point of your path?
41:30 – How did you manage to have such a big client list?
45:22 – Tell us about SuperSeed
47:12 – What is "a little bit of revenue"?
51:40 – When does your job end?
55:12 – RAPID FIRE QUESTIONS ROUND

55:35 – Any unusual drinking or eating habits?
55:47 – How do you get into a state of flow?
56:28 – What habit or opinion you have that people tend to disagree with?
57:10 – What nontraditional lesson would you teach at school?
58:02 – What books had the biggest impact on your life?
58:32 – What do the first 30 minutes of your day look like and when does it start?
59:28 – Any advice for your previous boss or bosses?
59:52 – What do you do or where do you go to get inspired?
1:01:16 – How would you double GBP 5K in 24h?
1:01:31 – What's the best advice ever given to you?
1:01:54 – What silly thing people should do more of?
1:03:40 – Would you rather fight one horse sized duck or one hundred duck sized horses?
1:04:22 – How would you convince someone to do something that is good for them, but don't want to do it?
1:04:47 – What makes you happiest?