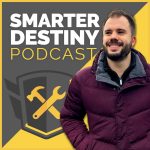 You may know Kurt Elster from The Unofficial Shopify Podcast, one of the most popular podcasts on the planet, with over one million downloads. What you may not know is that Kurt is a consultant for ecommerce businesses with some great clients, and today he shares all his secrets for starting and promoting your own podcast, ecommerce and Shopify.
Show notes Kurt Elster
00:30 – Introduction Kurt Elster
04:10 – When was the starting point on your path as an entrepreneur?
08:10 – Your idea was to build your own ecommerce platform?
09:45 – How did that particular business transitioned to the next?
13:50 – How did you start spreading the word about this pivot?
14:50 – What is a "point of sell"
16:15 – How did that lead on to you becoming a famous podcaster?
19:15 – What advice would you give to someone that is starting a podcast?
20:45 – How did you manage to get a big start with your podcast?
21:30 – How did you get on shows to talk about your own podcast at first?
23:45 – Why do you think getting on different shows, as a guest, is important?
26:03 – What kind of growing pains did you have?
28:02 – Do you still have to reach out for your guests?
32:24 – Any horror stories or fun anecdotes while making your podcast?
34:25 – Why should people listen to your podcast?
37:55 – Did you inform the guests those times you had to discard the episodes where you interviewed them?
39:25 – What makes a good episode?
40:30 – Name the most common failures you see on Shopify stores
45:50 – How do you spend your time currently?
47:55 – Could you describe your ideal client?
50:20 – How can people find you?
51:02 – RAPID FIRE QUESTIONS ROUND

51:28 – Any unusual drinking or eating habits?
53:25 – How do you get into a state of flow?
54:39 – What habit or opinion you have that people tend to disagree with?
56:15 – What nontraditional lesson would you teach at school?
59:55 – What books had the biggest impact on your life?
1:04:02 – What do the first 30 minutes of your day look like and when does it start?
1:04:51 – Any advice for your previous boss or bosses?
1:05:01 – What do you do or where do you go to get inspired?
1:06:10 – How would you double GBP 5K in 24h?
1:06:49 – What's the best advice ever given to you?
1:08:00 – What silly thing people should do more of?
1:09:35 – Would you rather fight one horse sized duck or one hundred duck sized horses?
1:11:10 – How would you convince someone to do something that is good for them, but don't want to do it?
1:11:50 – What makes you happiest?
01:12:50 – What would you ask from the audience?