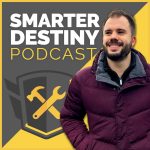 Shash Singh is the Co-Founder and CEO of Linx Digital, a company that specializes in helping both infoproducts and ecommerce brand owners improve their sales and profits through YouTube and Facebook Advertising. Shash has really cracked the code and written his own formula for advertising on YouTube. He ran a six-figure YouTube Ads campaign for Kinobody that resulted in such a massive growth for his client that Google created a case study on the campaign.
Shash Singh – Linx Digital University
Bullet points
00:30 – Intro
03:00 – The lowest point
05:12 – The first business: SEO agency
05:58 – Stumbling upon YouTube
07:00 – Selling on YouTube: information and services vs physical products
09:06 – The approach to running ecommerce ads on YouTube
14:20 – The perfect ad for an info product
15:50 – Hooks for YouTube
19:44 – The formula that works
22:40 – When to start doing YouTube ads
24:40 – The timeline: initial traction, progress, profitability and scale
25:50 – How does video production work
26:34 – The product and process
29:27 – Funnel and conversion rates
30:58 – Don't try to reinvent the wheel
33:04 – Running the numbers
34:10 – Targeting capabilities on YouTube
39:32 – Scaling on YouTube
41:57 – The Halo Effect
44:35 – Retargeting on YouTube
49:30 – Where to find out more
50:35 – Rapid fire question round
51:06 – Any unusual drinking or eating habits?
52:00 – How do you get into a state of flow?
53:30 – What habit or opinion do you have that people tend to disagree with?
53:40 – What non-traditional lesson would you teach at school?
55:27 – What books had the biggest impact on your life?
56:07 – What does the first 30 minutes of your day look like and when does it start?
58:22 – Any advice for your previous boss or bosses?
59:00 – What do you do or where do you go to get inspired?
01:00:01 – How would you double USD 5K in 24h?
01:01:36 – What's the best advice ever given to you?
01:02:45 – What silly thing should people do more of?
01:03:35 – Would you rather fight one horse-sized duck or one hundred-duck sized horses?
01:03:54 – How would you convince someone to do something that is good for them, but that they don't want to do?
01:05:00 – What makes you happiest?
01:06:15 – Any asks or requests for the audience?